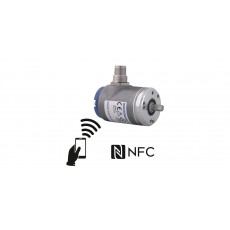 WDGN … encoder configuration via NFC
The worlds first configurable encoder by NFC
Unique in the world: Wachendorff encoder configurable via NFC
Contactless and voltage-free encoder configuration via NFC

The new WDGN series of incremental encoders from Wachendorff Automation enables configuration of any pulse count from 1 I/U to 16,384 I/U via NFC.
Depending on the equipment, Basic or Advance, further parameters can be set via APP using NFC.
After downloading the Wachendorff WDGN app to the smartphone, the desired parameters and values can be configured without contact or voltage, if necessary also through the outer packaging.
Encoder configurations created can be saved under different names, reloaded at any time and transferred to another encoder. This means that saved configuration sets can be used for the encoder in different applications. The configuration set of an encoder can be read out, saved, shared and reused for other encoders at any time after entering the PIN. The PIN and PUK principle is used for security.
More detailed information: www.wachendorff-automation.com/wdgn
App download for Android, Google Play Store (Huawei and IOS app to follow soon):
https://play.google.com/store/apps/details?id=de.wachendorff.wdgn